Steve & Cassandra Allan
New Home Builders Toowoomba and Surrounds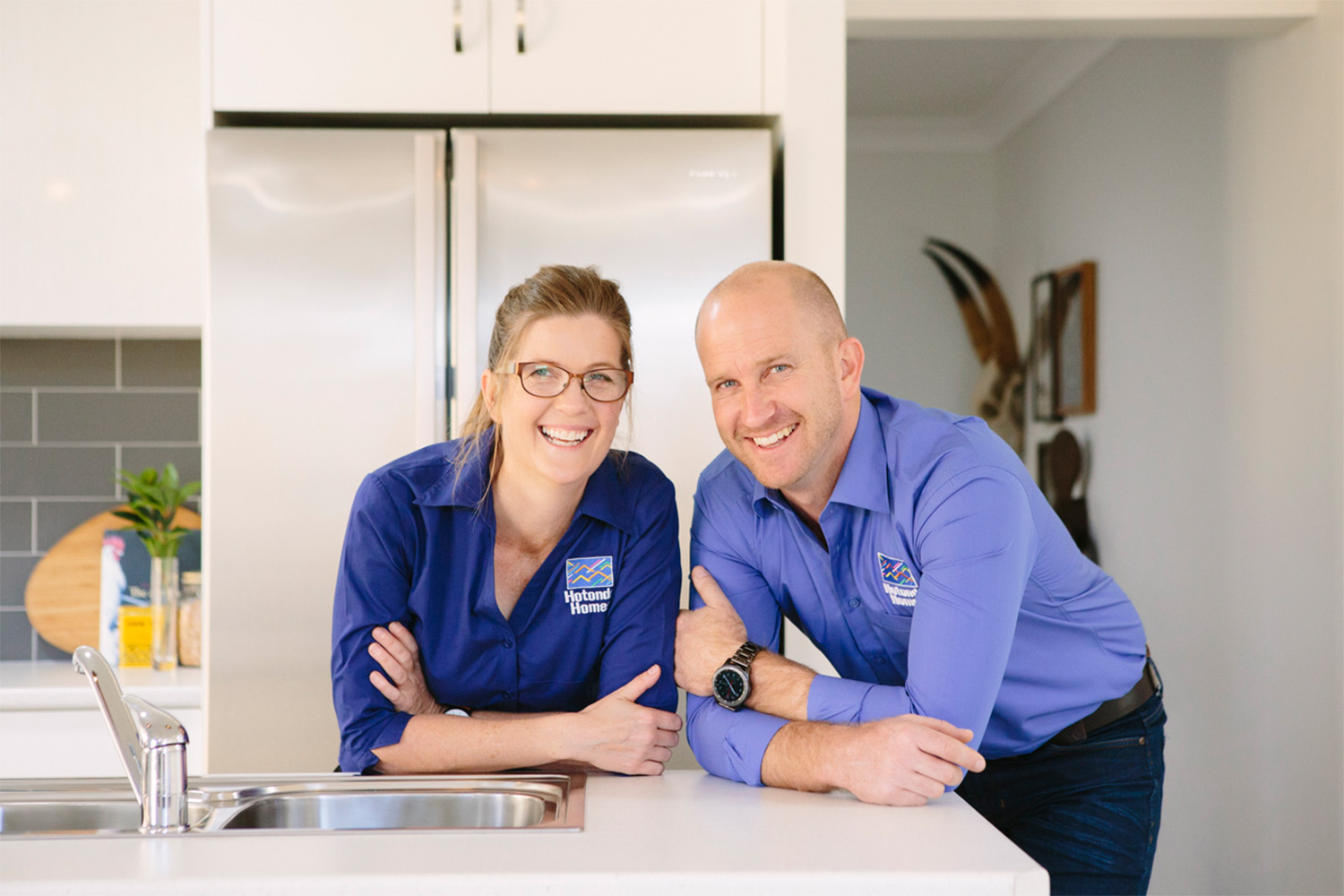 Steve and Cassandra Allan are your local, award-winning builder taking out the prestigious 2017 National Professional Builder of the Year!
Steve, Cassandra and the team are your local new home builders in Toowoomba and surrounding areas including Dalby, Gatton, Warwick, Laidley, Lockyer, Hatton Vale and Plain Lands. Whether you're are an individual, couple or growing family, they will work with you and your requirements to build you a home that's fits your lifestyle and suits your budget. Steve and Cassandra are very passionate
( more )
Contact Details
Phone


07 4639 3373

Enquire Today
Click Here
Address
2 Tallowwood Boulevard, Cotswold Hills QLD 4350
(see map)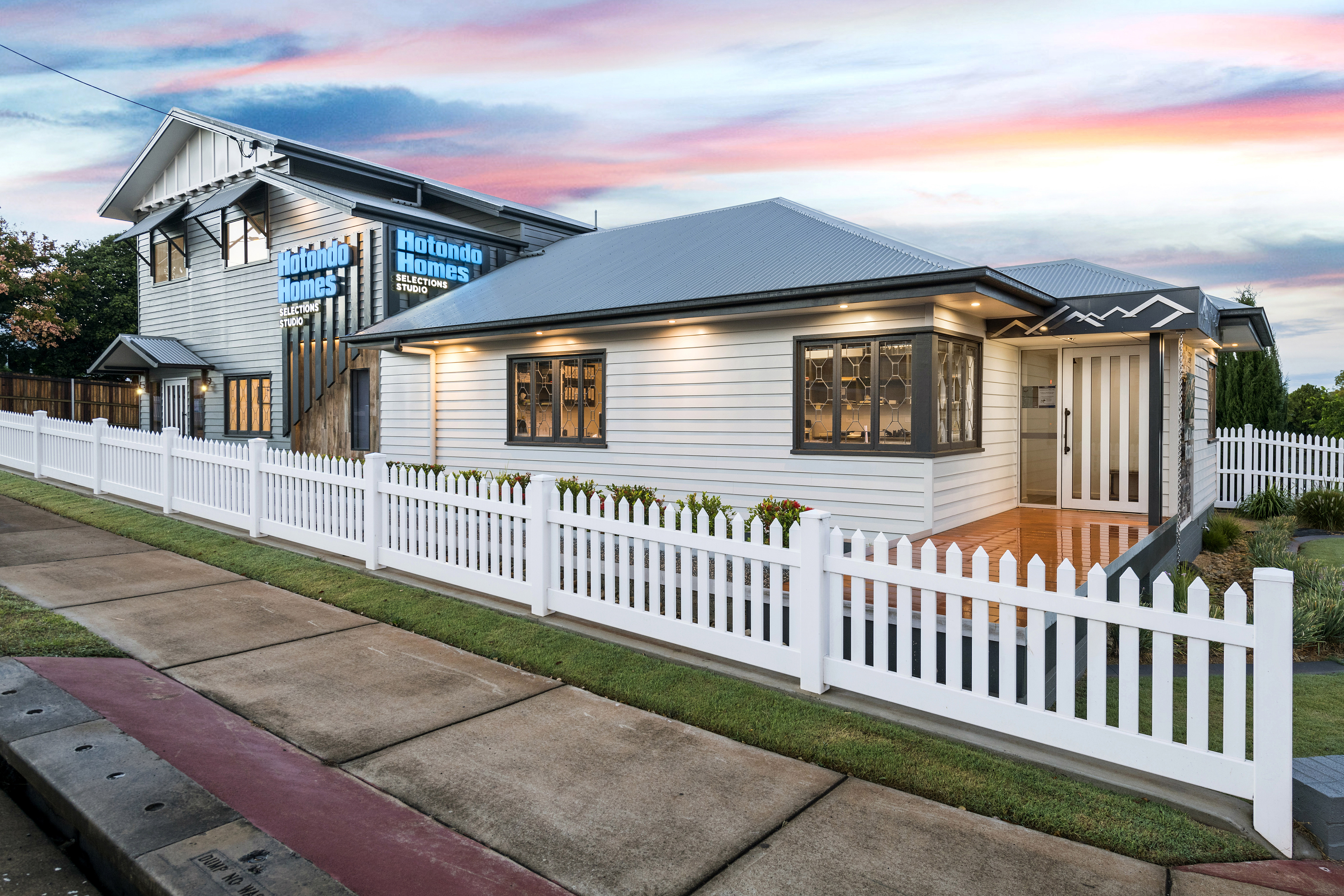 Credentials
Service Region:
New Home Builders Toowoomba and Surrounds
Company Name:
Hotondo Homes Toowoomba

ABN:
68 135 659 308

Licence:
QBCC 1165743
Newsletter
Testimonials
"Thank-you to Steve, Shay and the team at Hotondo Homes Toowoomba for a very easy and stress-free build! A special mention to Shay who was absolutely wonderful in answering my questions, following-up and keeping me informed. Shay, you made the whole process so simple and your advice was the greatest help! I love my house and can't recommend Hotondo Homes Toowoomba enough."
Clapham
"We built with Hotondo Homes Toowoomba for our second investment property project and they certainly did not disappoint! The team went above and beyond to provide an extremely professional and efficient service with outstanding communication throughout the entire project. We are extremely happy with the finished, unique and quality product which stands out among all the other new builds in the area. We would definitely recommend Hotondo Homes Toowoomba to anyone considering building a home in Toowoomba and to investors who want a stress free, hands off experience."
Robyn
"Shay's honesty, enthusiasm and warmth was exactly what we were looking for being first time builders. She helped us find the perfect block to suit our requirements and budget. Our process was a long one given we purchased our block before construction on the estate had begun, so this gave us time to make sure everything was perfect. Shay was always willing to help with any issues that came up outside the build and always had our best interest at heart. The team took any concerns on board and always made us feel reassured and valued. We found the whole process so simple and much less stressful than we had anticipated thanks to Shay. We would without a doubt build another home with Hotondo Homes Toowoomba and would highly recommend them."
Buller
"Steve, Shay and everyone at Hotondo Homes Toowoomba are true miracle workers. We began the process of designing our home and Shay was beyond supportive in how she dealt with us. At no point did I feel rushed or pushed through a decision and I honestly felt so calm and at ease with the process. Shay was extremely accommodating with our work commitments and never made us feel overwhelmed. We met personally with the electrician and interior designers just to make our dreams a reality. I would and have recommended Hotondo Homes Toowoomba to everyone I speak to. I cannot thank Steve, Shay and everyone at Hotondo Homes Toowoomba enough for making us feel at ease. The aftercare and hand over of the property was amazing! I wake up every morning with a view of my amazing deck and a skyline to die for. My husband and I cannot wait to raise our children in this house!"
Keith
"Hotondo Homes Toowoomba are the best of the best! They love what they do and it showed at every stage. Their constant communication, incredible attention to detail and their honesty when it came to selecting design features and colours, was second to none. Nothing was too difficult. Even now after keys have been handed over and final invoices have been paid, we are still being treated like we are family. Shay is the most beautiful person to deal with and the minute you meet Steve, you will feel instantly at home. Hotondo Homes Toowoomba are the be-all and end-all of the building industry. Don't go anywhere else. "
Shannon
"We are really happy and highly satisfied with the quality of our first home. Right from the start, selection of land to construction, Shay and Steve guided and explained to us the pros and cons. We love how straightforward they are. Being our first home we were looking for a trustworthy builder and a hassle free construction period and these guys always exceeded our expectations. In fact we received good reviews from your previous clients and even other builders, which made our decision to go with you guys easier. It's really your amazing team work that kept us excited throughout the construction period. Without a second thought, we surely recommend Hotondo Homes Toowoomba to anyone who is looking for a quality home. Our house itself is a statement that keeps people asking who built it and we proudly say 'Hotondo Homes Toowoomba!'"
Prashilla and Vimal
"From first meeting to handover was a walk in the park! The team from Hotondo Homes Toowoomba are very easy to deal with and willing to go above and beyond to get every detail perfect for your new home. They always respond to any question or queries you have very quickly. We are very happy with our experience with Hotondo Homes and the team here in Toowoomba. We'll certainly be in contact with them for our next home."
Josh
"I am absolutely stoked with my new home! Shay, you were very upfront and honest from the first interview and for that I knew you guys were the right builders for me. You made it a totally stress-free experience. The service and all of the support you provided was outstanding and I can't thank you enough. The finishes and quality workmanship of my home is great. I highly recommend Hotondo Homes Toowoomba to anyone! It was a fantastic experience and I really do love my Hotondo Home!!!"
Jessica
"Building with Hotondo Homes Toowoomba was a dream come true for us. From the very start we felt at ease, when we first sat down and had chat with Shay in what we were looking for in building our dream home. Steve was great in coming down to our block of land and suggesting what style and plan we should look at using. The professionalism was outstanding by Hotondo Homes; it was a breath of fresh air! Thank you again Steve, Shay and the rest of the team at Hotondo Homes Toowoomba in making our dream home for our family a reality."
Dan
"My experience with Hotondo Homes Toowoomba has been fantastic! This was my first time to build a duplex from start to completion. Shay and her team provided well above and beyond professional service on each step during the construction process. In each step my questions were answered thoroughly and timely and I received reports on the construction progress every week, which I was very impressed with. Their dedication for their customers exceeded my expectation and I learned a lot from Shay and her team. The duplex was completed with high standard and quality and I am very happy with all the results. The duplex has now been rented out. I appreciate the whole work and efforts Hotondo Homes Toowoomba has provided for me. I am looking forward to working with Hotondo Homes again in the coming future."
Jerry